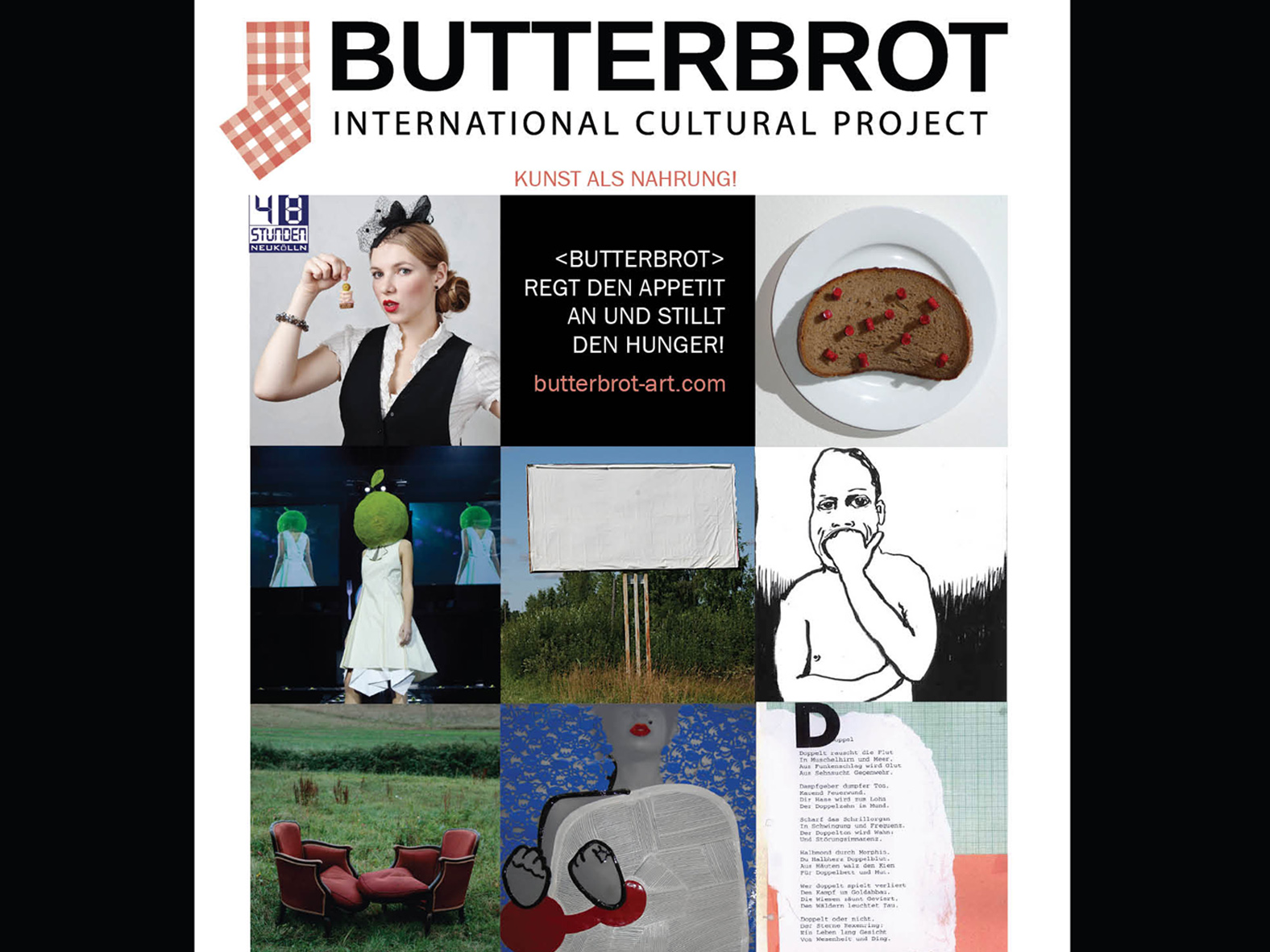 25. – 27. Juni 2010
Im Rahmen des Festivals 48 Stunden Neukölln
Mehrgenerationenhaus, Berlin
'Art as Food' was the central topic of the first exhibition of the International Cultural Project BUTTERBROT, which took place between the 25th and the 27th of June 2010, in Berlin.
Artists who had interpreted the theme in a very personal and idiosyncratic way were invited to contribute. The spectrum of genres represented in the exhibition ranged from installations, photography, interactive works and painting to music and dance.
The curators of the exhibition, both from Russia, who have been working in Berlin for several years, see art as a necessity, a possibility of cultural exchange and a communicative medium. This understanding is present in the project's title – the German word 'Butterbrot' (bread and butter) is also used in Russia and Ukraine for a sandwich – a simple, staple food.
The opening of the exhibition was accompanied by a solo concert of the brass music universalist, Arkady Shilkloper. The program of the exhibition also included a lecture by the professor of the Russian State Humanitarian University (RSUH), Julia Liderman, a workshop by the Berlin artist, Barbara Klinker, a multimedia dance performance by Jose Fernando Andrade, in collaboration with Aleksandra Goloborodko and Jadi Carboni, a performance by Takashi Wada and Rui Faustino Duo and a concert by the experimental jazz band "Adorno 69".
Artists: Alexandra Goloborodko, Aleksandra Yurieva-Civjane, Alexander Kopyltsov, Alexey Petrov, Arseniy Shuster, Artyom Mishkarudniy, Barbara Klinker, Birgit Bellmann, Carline Huge, Ivan Prokhorov, Ester Grossi, Ekaterina Saranduk, Marleen Kuipers, Michael Bensman, Philipp Mager, Filipp Pishik "BLUEMOLOKO", Sergio Bermúdez, Tom Albrecht, Yashima Mishto.
Print media were supported by the Quartiermanagement Neukölln. The edition of the catalogue was partly sponsored by the printing company, Hermann Schlesener KG.