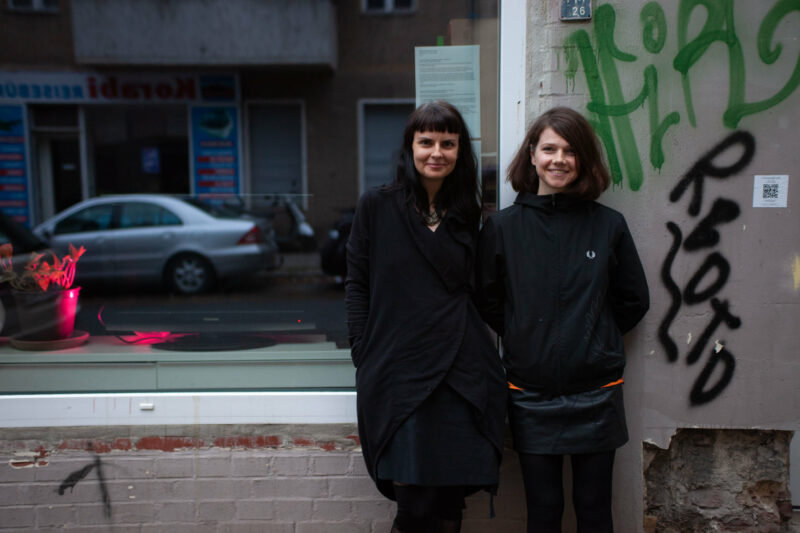 International Cultural Project BUTTERBROT is a curatorial initiative of Alexandra Goloborodko and Aleksandra Yurieva-Civjane. The project was founded in Berlin in 2009 with the aim of promoting intercultural exchange, knowledge transfer, cooperation, and networks between artists, cultural professionals, activists and academic researchers from Western- and Eastern Europe and internationally. The initiative creates a context-specific multidisciplinary space for artistic engagement with current issues in these regions, systematically realizing exchange programs, forums, discussions, study trips, and exhibitions in Berlin and abroad. Anyone interested can apply to participate through open calls. The thematic focus of the BUTTERBROT project is on artistic research and engagement with the urban space in post-communist cities, as well as on the democratization of these spaces. Other important topics that are always on the agenda of this project include artistic and curatorial work under difficult socio-political conditions (art under pressure), forms of artistic self-organization, and the development of independent and critical art in post-communist contexts.
BUTTERBROT project connects professionals that otherwise do not have enough exchange and cooperation. Although Germany and the Eastern European countries are united by their geographical proximity and shared history, the conditions and opportunities for artists in these regions are very different. This means that artists in these regions often have to apply for funding in the West and also align their work with the themes negotiated there. BUTTERBROT tries to close these gaps by promoting engagement with these issues and dialogue between the cultural professionals of these countries.
The second branch of the project BUTTERBROT is cultural education in form of creative workshops for children and young people. Within BUTTERBROT Education, similar topics are addressed: intercultural relations, creative engagement with one's own environment (city), recycling, and sustainability. Projects have been organized and launched in cooperation with Berlin partners among others. Dekabristen e.V., CISR e.V., Dissens – Pedagogy for Art in Context, KLAX Children's Art Gallery, and Young Arts Neukölln.
BUTTERBROT does not have its own physical location and sees itself as an independent nomadic platform that works in cooperation with various Berlin institutions, galleries, and independent spaces, such as the Kunstraum Kreuzberg/Bethanien, CLB Gallery Berlin, Betahaus Berlin, August Bebel Institute Berlin, or Galerie Vinogradov Berlin. Within the framework of the BUTTERBROT project, no specific event formats are predetermined. Rather, certain formats and projects develop during the work on the respective topics and inspire each other. Since May 2019, BUTTERBROT has been under the auspices of the non-profit association Kulturschafft e.V. The association was founded with the aim of bringing art and culture to places and people where and for whom there is little access to it. At present, the association has over 20 members. These are international, Berlin-based artists and cultural professionals who work in different fields.
Curators and founders:
Alexandra Goloborodko 
was born in Moscow and has been living and working in Berlin since 2010. She studied graphic design (B.A.) and cultural studies (B.A.) in Moscow and completed her master's degree in Art in Context at UdK Berlin in 2018. In 2010, she cofounded a curatorial project called Butterbrot. As a curator, she is interested in forms of artistic self-organization, promoting cultural dialogue between Eastern and Western European countries, and art practices in public spaces. She has been working as an artist and curator since 2005 and has organised exhibitions and cultural events in Berlin, such as BesonderRaum at the Kinderkunstgalerie Klax, Meine Straße? Моя Улица? at the August Bebel Institut, Lebens(t)Räume at the Pyramide exhibition center, Koordinatensystem at CLB Berlin and betahaus Berlin, Königsberg – Kaliningrad. Idea or history at the August Bebel Institut, and Russland vs. Russland at Kunstquartier Kreuzberg/Bethanien Berlin, Wie die Luft zum Atmen, Urban Practices of Care (Draussenstadt Programme). Her projects have been supported by organizations such as the Heinrich Böll Foundation, Robert Bosch Foundation, and Goethe Institute.
In addition to curating, she is also active in cultural education. She leads creative educational programs for young people, including Dissens – Pedagogy for Art in Context e.V., Chance International e.V., Kulturamt Steglitz-Zehlendorf, and Schloss Trebnitz. As an art educator, she focuses on exploring urban environments through artistic media such as photography or documentary video production. In May 2019 Alexandra founded a non-profit cultural association Kulturschafft e.V.
Aleksandra Yurieva-Civjane 
was born in 1983 in Riga, lived in Moscow, and has been living in Berlin since 2003.
She is an artist and art educator. Yurieva-Civjane is the co-founder of the International Cultural Project BUTTERBROT, where she also works as a curator, and the pop-up creative workshop BESONDERmüll, where she designs, organizes and leads art workshops for children and young people.
As an artist, Aleksandra explores the spatial translations of different systems and processes, the interaction of text, language, and image, and the media representation of the self. Some exhibitions she has participated in include the EMERGEANDSEE Media Festival, "contemporary love" at Polymedialer Ponyhof, art action in public space "Wie die Luft zum Atmen" in Berlin, and the exhibition "Emotional Landscapes" in Düsseldorf. Her sculpture "Der Kubus" lives its own life in the Prinzessinnengarten at Moritzplatz in Berlin.
In the creative workshops that Yurieva-Civjane leads, she focuses on working with recycling materials, exploring cities and their ecologies, and the tactile and media.
Aleksandra works in a participatory, inclusive, and process-oriented way. She develops projects that enable equal participation in art and culture for all, regardless of their background.
In her curatorial work, Yurieva-Civjane is mainly concerned with promoting intercultural dialogue between Eastern and Western European countries. She deals with the aesthetics of urban spaces, social geography, artistic protests, and art practices that address these issues. Some exhibitions she has organized include: "Meine Straße? Моя Улица?" at the August Bebel Institut, "Koordinatensystem" at the independent project space CLB, and "Russland vs. Russland" at the Kunstquartier Kreuzberg / Bethanien in Berlin.