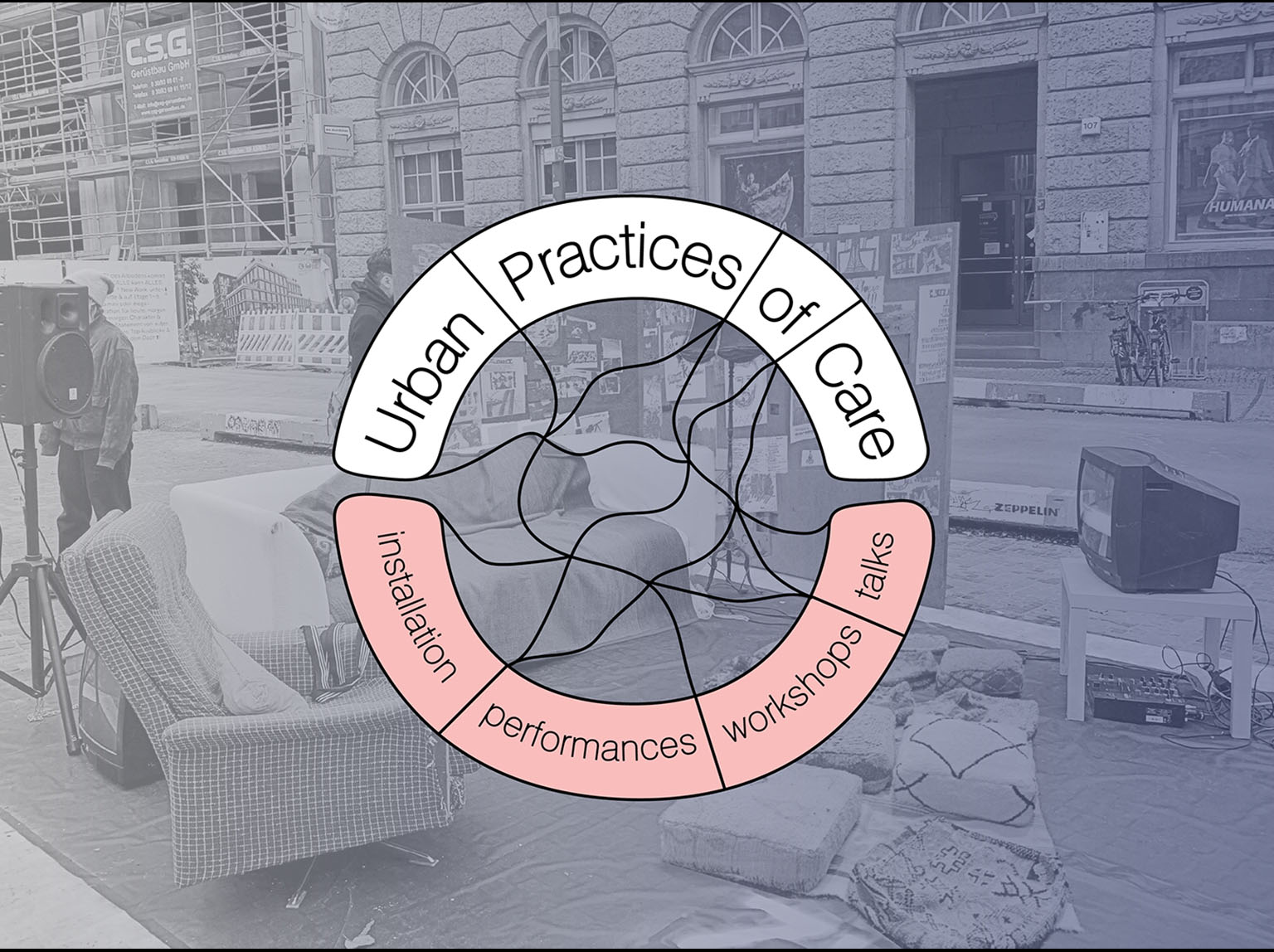 In light of the current immigration situation, we, as art and culture professionals here in Berlin, are exploring forms of support for refugees, who are in need.
How can residents of the city help in individual ways to find a sense of home and good community in this place?
As an art collective, we are using public space as an arena to show possibilities and strategies of self-organized help, which are possible beyond the official state programs.
Last but not least, we are concerned with the psychologically beneficial effect of human togetherness and small everyday practices of attention and care. We believe creative experience can act as a reminder of the resources we each possess, with which we can offer help.
An installation in the form of a 1-room apartment on Alfred-Scholz-Platz will function simultaneously as a stage, workshop space, and meeting place. This apartment, in a public space and without walls, stands as an expression of openness and helpfulness in the new living environment.
Artists: Alexandra Goloborodko, Aleksandra Yurieva-Civjane, Kay Kastner , Tizo All, Suzanne Stavast , Melanie Hack , Samir Harb
Curated by International Cultural Project Butterbrot.
The project is part of DRAUSSENSTADT. Kindly supported by Senatsverwaltung für Kultur und Europa, Stiftung für Kulturelle Weiterbildung und Kulturberatung and [Aktion! Karl-Marx-Straße]
FR, 23.09.2022 / 17.00 – 20.00
17.00: Opening & welcome speech
17.30 – 20.00: Movement performance practice
-Installation & action: "hear you 'An act of deep listening'. Come find my big ear and talk to me, I will listen, I hear you."
-Sound-Installation "Help"
-Durational Mapping
SA, 24.09.2022 / 14.00 – 20.00
14.00 – 16.00: Creative-Workshop / Collage: The inner resting place
16.00 – 17.30: Comic-Workshop: How to draw your story
17.00 – 17.30: Talk. Stifling Neue Kunst & Kulturschafft: institutional support
17.30 – 19.00: Taiko Workshop (Japanese drumming)
19.00 – 20.00: Movement performance practice
-Installation & action: "hear you 'An act of deep listening'. Come find my big ear and talk to me, I will listen, I hear you."
-Sound-Installation "Help"
-Durational Mapping
SO, 25.09.2022 / 14.00 – 18.00
14.00 – 16.00: Creative Workshop by Mistechko
14.00 – 16.00: Yoga Practice
16.00 – 18.00: Movement performance practice
-Installation & action: "hear you 'An act of deep listening'. Come find my big ear and talk to me, I will listen, I hear you."
-Sound-Installation "Help"
-Durational Mapping