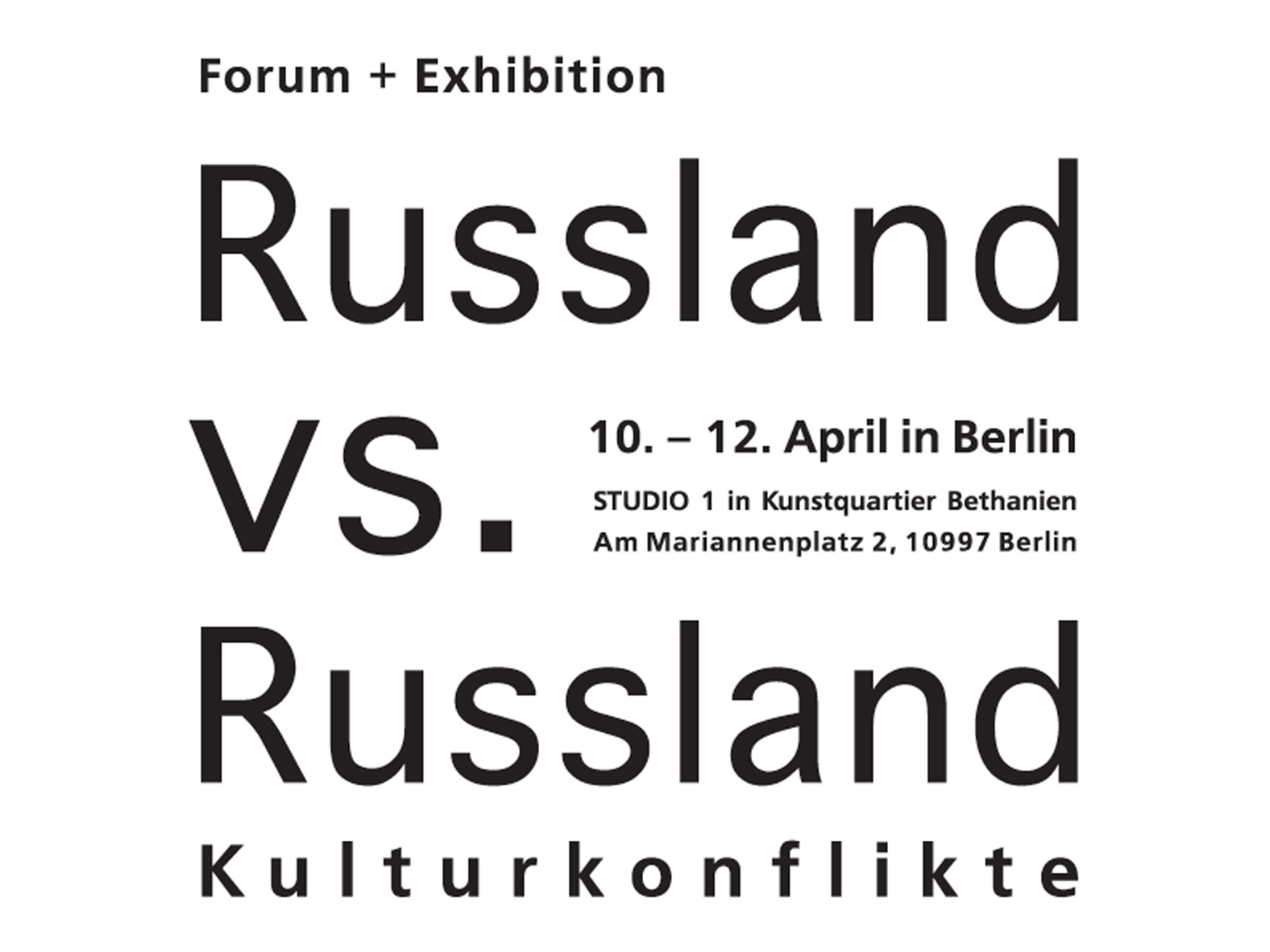 Russia vs. Russia. Cultural conflicts
10 – 12 April 2015 in Berlin. 
Bethanien, Kreuzberg Art Quarter, Berlin.
The open forum and exhibition "Russia vs. Russia. Cultural Conflicts" showcased the diversity of current artistic positions in Russia. Artists, curators and intellectuals engaged with political art, art activism, street art, and public art.  
The central topic of the forum "Russia versus Russia. Cultural Conflicts" is the interaction between russian contemporary art and urban, social and political contexts and the contradictions that arise in the process. In a series of public discussions, and a multimedia exhibition, the binary juxtaposition of "conservative" and "progressive" aspects of Russian society and culture will be critically examined in order to create a differentiated picture of the diverse current interplay between public and critical art, politics and society.
The main goal of the project is to contribute to the discussion on the development of an independent critical culture in Russia and to develop a platform for dialogue on its current problems and future strategies. We want to understand and discuss which critical art forms have been disseminated in recent years, what role social processes in Russia have played in this process, and what has changed during this time in the artist's interaction with society and the state. The forum will also address the question of the role and function of a critical artistic statement for society, and its placement and significance in current socio-political processes in Russia.
With: Artem Loskutov, Dmitry Vilensky, Viktoria Lomasko, Arseny Zhilyaev, Anna Nistratova, Tima Radya, Igor Ponosov, Tatiana Volkova, Nailia Allakhverdieva, Lilia Voronkova, Alexandra Novozhenova, Alexander Bikbov, Ivor Stodolsky, Sandra Frimmel, Olja Reznikova, Christiane Post, Kristina Leko
Organized by: Alexandra Goloborodko, Alexander Formozov
Exhibition curated by: Aleksandra Yuieva-Civjane
More information about the project: www.russland-russland.de