Butterbrot is an initiative of independent curators, founded by Alexandra Goloborodko and Aleksandra Yurieva-Civjane in 2009 with the aim to support young contemporary artists, intercultural exchanges, knowledge transfers and German-Russian relations. The curatorial purpose is to search for interdisciplinary and contextualized access to actual problems, and contemporary art is considered, in this context, as a direct interaction and the vital connection between different disciplines. Butterbrot Project does not practice in any prefixed event formats and creates specific formats to each project according to its particular themes. Through collaboration with different institutions, other curators and last but not least, the audience, new networks, topics, and questions are being created, which generate new dynamics and energies and influence far beyond the project.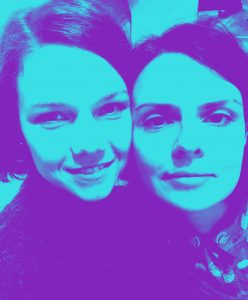 Alexandra Goloborodko is an independent curator and cultural mediator. She lives in Berlin. She graduated with a degree in cultural studies from the Russian State University for the Humanities. Since 2014 she has been completing her MA Art in Context at the University of the Arts, Berlin. From 2009 on she has been curating exhibitions and cultural events in Moscow (at Design Fabric Flacon, Park Muzeon) and in Berlin (at Kunstquartier Bethanien, August Bebel Institut, Acud Haus). Alexandra also organizes and teaches a diverse range of educational art programs for young people, among others at Dissens – Pädagogik für Kunst im Kontext e.V.
Aleksandra Yurieva-Civjane born in Riga, Latvia, has lived in Moscow and in Berlin. After her training in Psychology at the Moscow Pedagogical University, she is studying Media and Cultural Studies at the Heinrich-HeineUniversity, Düsseldorf. Since 2009 she has worked as an independent curator, collaborating with galleries and cultural institutions such as Galerie Seitz & Partner Berlin, Kulturamt Neukölln Berlin and Goethe Institut Moskau. She currently lives and works in Düsseldorf.